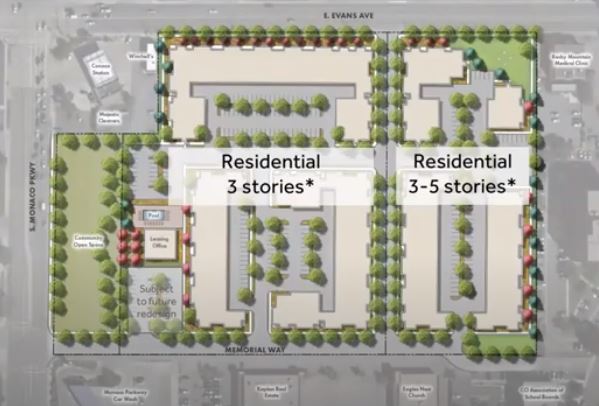 by Maggie Janco
Forum Real Estate Group has already created some changes on the 13-acre Kmart site at Monaco and Evans. This summer the Plum Creek Garden Market operated a pop-up selling plants, and more recently Fluid Truck Share has been on-site as well as Covid-19 testing. They are hoping to continue the Santa Claus Shop tradition and host Christmas tree sales this winter. Beyond the interim uses, we now have a sense of what is planned long term for the development they are calling Blūm ("bloom") at High Line. The Forum team and the City of Denver held a zoom community meeting in May to share details and obtain feedback from neighbors.
Some overarching design themes were improving the sense of place and breaking up the mega block to bring a pedestrian scale to the area. While the first goal seems easily attainable, the second will take significant transformation at a busy intersection. Here are some of the pieces of their concept.
Vision of an "Urban Oasis"
Monaco will have a 10′ wide tree lawn and a 10′ wide sidewalk while Evans and Memorial Way (the currently borderless street at the south of the property) will have an 8′ landscape zone buffering and 5′ sidewalks. Due to the Goldsmith Gulch culvert running under the site, there is an undevelopable floodway portion along Monaco. While they maintain there is future potential to open the culvert as a natural creek, it would be a complex undertaking involving the larger network under the City of Denver and Mile High Flood District. At this time, the area is proposed as an approximately one acre open space, with pop-up retail and event opportunities. Norris Design is the landscape architect for the project.
The project currently consists of:
Phase 1 (west) – 265 market rate rental housing units
Phase 2 (east) – 140 units of possible senior housing
New north-south street from Evans to Memorial Way
1-acre open space and adjacent amenities/parking
At a recent CPNA zoom meeting, we learned from Forum that one key item changed since May. They are no longer considering rezoning for the east side of the site. Initially it was discussed that upzoning may be attempted for a higher height limit than the 3-stories allowed.
No retail?
While retail space was considered, Forum's analysis determined that there is significant surrounding retail which is underutilized. Rather than competing and risk vacancies, they determined a better strategy would be to support the existing retail with new residential users. The conclusion that there is a "lack of retail demand" and retail is "not economically viable" is somewhat in conflict with the city's identification of this site as a Community Center under the Blueprint Denver plan. In the property's Large Development Framework submission, a city comment states "Further analysis is required to determine whether a 100% residential development is consistent with this designation" as a Community Center. Forum's perspective is that the proposed residential development completes a larger mixed-use area when combined with 277,000 SF of retail and 142,000 SF of office directly adjacent to the site.
More multi-family?
While it may seem that there are plenty of multi-family housing options in this area, Forum emphasizes that the Blūm options will be different. They are targeting rental rates that are 100-120% of area median income (AMI) while adjacent rentals average 65% AMI. For example, a 2 bedroom apartment at 65% AMI would rent for $1463 a month, whereas Forum's targets would rent for $2250-$2700. They believe this will provide a higher end option for middle-income residents and provide needed housing diversity. The city will likely challenge Forum to provide an Equity Analysis and address affordable housing.
What about parking? And traffic?
The development is targeting 1.4 parking spaces per housing unit plus additional tandem spaces, whereas city zoning only requires 1.25 spaces/unit in this zone district. Parking will be in ground level garages of the 3-story units as well as surface parking wrapped by these buildings. A traffic study is underway and will be included in a future submission to the city. It is unclear how any traffic findings would limit or change development. The city does mention that a "mobility study may be required to fully explore traffic impacts" CPNA plans to reach out to the city for more detailed traffic information related to this and other pending developments.
Schedule and More Information
Construction of Phase 1 is currently anticipated to start next summer with occupancy beginning Fall of 2022. For details visit: monacoevansdenver.com. On this site there is a link to the recorded zoom community meeting from May and a form to send comments.