By Danielle Corriveau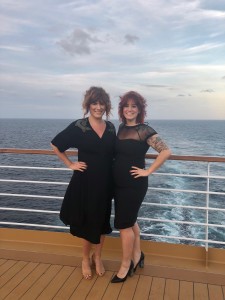 Irina Avsukevich and Nicole Libertelli, proud owners and artists of The Factory, a Virginia Village hair salon, are awash in meaningful numbers. The two stylists have been working together for more than a decade creating beautiful, hip cuts and color. This year, on October 1, the team celebrated one year of being in business, which began with a whirlwind 30-day turnaround from purchase to service. 
The name The Factory is a nod to Andy Warhol's idea of bringing a collective of artists together. That sentiment of creativity and collaboration launched this factory. The women enthusiastically agreed the salon wouldn't be up and running without help. "We couldn't have done it without the support we received from this community. Our clients encouraged us and helped with everything from logo and web design to plumbing," they shared. 
Six months later, the salon closed due to COVID-19. When they got okay to open, they offered services seven days a week to accommodate regulations and serve customers. "It was exhilarating to re-open," said Nicole. "We were working 80 hours a week, but it was what everyone needed."
Irina echoes the sentiment. "I'm feeling connected to people again. I love that we see so many different people and that I get to hear their stories. This is all I've ever done and, to me, it's the best job in the world." 
The dynamic duo is excited to be moving forward and elated to be in the neighborhood. Each one lives only minutes from the salon, as do some of their stylists. "This is a great neighborhood. It's a pleasure to work where we live, and where we live, the people are incredible. They are great supporters of local business," said Irina.
The Factory Hair Salon,
1513 S. Holly Street
TheFactoryHairsalon.com