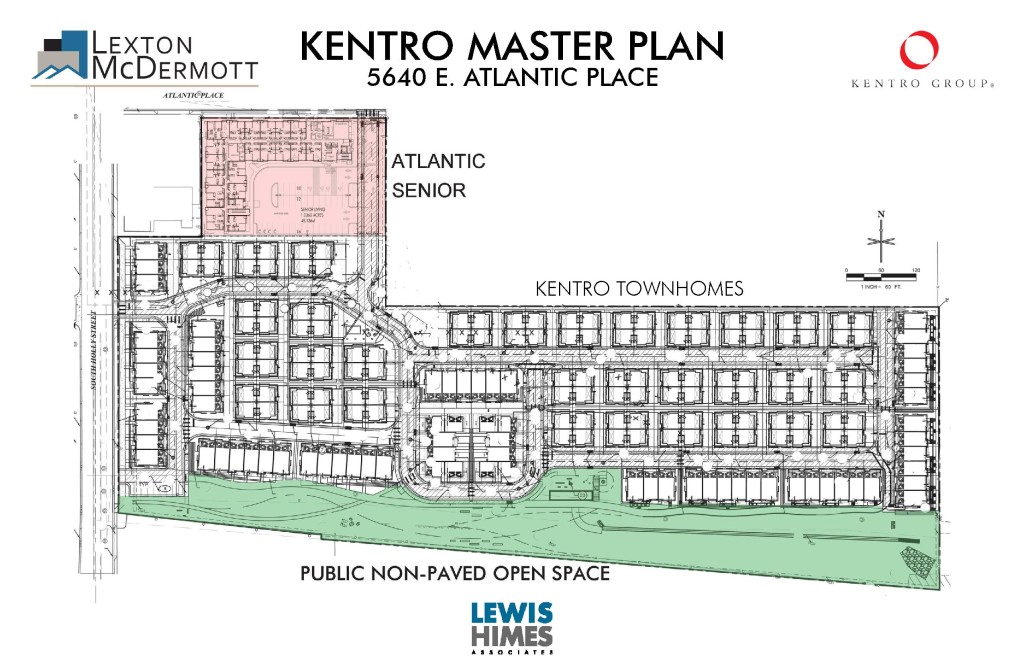 by Maggie Janco
South Development – Townhomes
You've likely seen the demolition of the CDOT Holly site is well underway. This will soon be complete and horizontal improvements (utilities and paving) are expected to begin in late October. One noticeable improvement will be a 7′ wide landscape buffer along Holly between the street and a new 8′ wide sidewalk. Lokal Communities is the owner, developer and architect for the southern portion of the site which consists of 198 for-sale 3-story townhomes. Two garage parking spaces per unit will be provided.
North Development – Senior Living
Kentro Group, the developer of the CDOT Holly property, has applied for a low-income housing tax credit (LIHTC) through Colorado Housing and Finance Authority (CHFA). The project at 5640 E. Atlantic Drive (south of Esters) is proposed to provide 62 units of affordable housing for seniors on the 1.04 acre site. The image above shows the proposal submitted with their application – 3 stories for a total of 52,000 SF wrapping 38 surface parking spaces. The project is expected to break ground next summer.
| | |
| --- | --- |
| | Atlantic Senior complex rendering (Photo courtesy of Lewis Himes Associates) |